05 FEB 2021
Tens of thousands protest in Myanmar against military takeover
At least 38 people were killed during anti-coup protests in
Myanmar
on Wednesday - more than a month after the military seized power from the nation's elected leader,
Aung San Suu Kyi
of the National League for Democracy Party (
NLD
).
The
United Nations
(UN) described the bloodshed as the "darkest day" since Ms Suu Kyi and members of her party were rounded up and detained under the orders of military commander-in-chief Min Aung Hlaing, who is now in control of Myanmar's levers of power.
But where is Myanmar, why are people protesting against the
military coup
, and what, if anything, is the international community doing to help prevent more demonstrators from getting killed by the security forces?
Myanmar, or Burma, is a Southeast Asian nation that borders Thailand, Laos, China, Bangladesh and India, and has a population 54.7 million people, around 71 per cent of whom live in rural areas, with the rest occupying cities.
Read more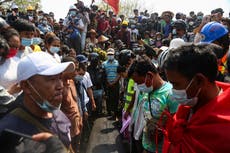 Myanmar: Hundreds mourn 'Everything will be ok' protester after worst day of violence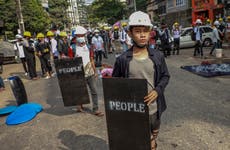 Myanmar protesters, undaunted by killings, march again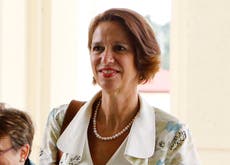 UN envoy: Myanmar army is 'surprised' at opposition to coup
The official language is Burmese and the largest religion is Buddhism. Myanmar's capital city is Nay Pyi Taw (Naypyidaw), which is located north of the nation's biggest city, Yangon.
Although Burmese is the official language, many other languages are spoken and the nation is home to scores of different ethnic groups, including Rohingya Muslims, although they are denied citizenship and, according to the UN, have subjected to ethnic cleansing.
A former colony, Burma gained independence from Britain in 1948 and was under military control from 1962 until 2011, when a new government brought in a partial form of democracy, which was brought to an abrupt end following last month's coup.
What has caused the violence?
The military seized control of power in Myanmar following a general election where Ms Suu Kyi's, a former Nobel Peace Prize winner, secured a landslide victory.
The military had backed the opposition party, who had called for a recount of ballots at the election, claiming widespread voter fraud, as President Trump had done during the US election last year.
Myanmar's election commission found no evidence that irregularities had taken place at the election. But because the military didn't want the NLD in power it performed a coup just as Myanmar's politicians were about to begin a new session of parliament.
Ms Suu Kyi and many members of her party were arrested in dawn raids on 1 February as the military made its move.
She has been detained on a number of charges including possessing illegal walkie-talkies, violating coronavirus rules during last year's election campaign and publishing information that may "cause fear or alarm", claims all of which her supporters say are bogus and politically motivated.
As head of the military, commander-in-chief Min Aung Hlaing is now in control of Myanmar. After taking over he declared a state of emergency and said new elections would take place only once it is over.
But critics fear that the military will use the state of emergency to maintain control of Myanmar and stifle opposition against its rule.
Why are people protesting?
The coup reversed years of slow progress toward democracy in Myanmar, which for five decades had languished under strict military rule that led to international isolation and sanctions.
As the generals loosened their grip, culminating in Ms Suu Kyi's rise to power in the 2015 elections, the international community responded by lifting most sanctions and pouring investment into the country.
There were efforts at holding new protests Thursday in at least three areas of Yangon: North Okkalapa, Sanchaung and Insein, all scenes of violence for the past few days. Police again used tear gas to try to disperse crowds, while protesters again set up barriers across major roads.
Protests also continued in Mandalay, where three people were reported killed Wednesday. A formation of five fighter planes flew over the city on Thursday morning in what appeared to be a show of force.
More than 50 civilians, mostly peaceful protesters, are confirmed to have been killed by police and soldiers since then, including the 38 she said were killed Wednesday.
What is the international community doing to stop the violence?

Wednesday's shocking death toll and the sheer volume of violence sparked outrage, with State Department spokesman Ned Price saying the US was "appalled" at the images of "horrific violence" and the UN's independent expert on human rights in Myanmar, Tom Andrews, saying the "systematic brutality of the military junta is once again on horrific display."
"I urge members of the UN Security Council to view the photos/videos of the shocking violence being unleashed on peaceful protesters before meeting in Friday's close-door session," he said on Twitter.
The UN Security Council has scheduled those consultations on calls to reverse the coup — including from UN Secretary-General Antonio Guterres — and stop the escalating military crackdown.
The US and UK have responded with sanctions on some military officials.
But any kind of coordinated action at the UN will be difficult since two permanent members of the Security Council, China and Russia, would almost certainly veto it. Some countries have imposed or are considering imposing their own sanctions.
Additional reporting by Associated Press